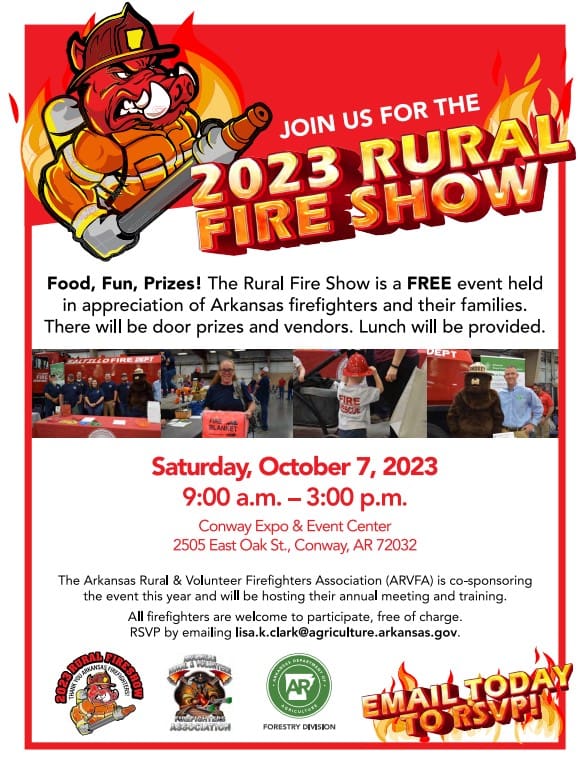 Registration is now open for the 2023 Rural Fire Show. This year's event will be held on Saturday October 7, 2023 from 9am to 3pm at the Conway Expo Center located at 2505 E. Oak St. Conway, AR. This is a free event for Arkansas firefighters and their families, to say 'thank you' for all they do to serve and protect our great state. This year's event will include a free lunch, door prizes, equipment demonstration, resources, and information from fire industry programs, as well as networking opportunities. Additionally, the Arkansas Rural & Volunteer Firefighters Association will host its annual meeting in the adjoining Conway Event Center along with training opportunities.
We had more than 650 attendees in 2022 from more than 135 fire departments across the state. Vendor booths are available on a first-come, first-served basis as space is limited. Both registration and payment must be received by September 15, 2023.
Please register for a booth/display here: https://www.cognitoforms.com/ArkansasAgriculture1/_2023ArkansasRuralFireShowVendorRegistration
Payments may be mailed to:
Arkansas Department of Agriculture
Attn: Rural Fire Show
20 Industrial Blvd.
Greenbrier, AR 72058
Set-up will be available for:
Apparatuses- Friday from 9am to 12pm
Vendor Booths – Friday 12pm to 2pm or Saturday 7am to 9am
(note: Saturday the bay doors will not be opened)
If you are interested in sponsoring this year's show or have any questions, please feel free to contact me. We greatly appreciate your support of the Rural Fire Show as well as the support of Arkansas' firefighters. We hope to see you there.
Kathryn Mahan-Hooten
Rural Fire Protection Administrator
VFA/FEPP/FFP/Interest Free Loans
Arkansas Department of Agriculture
Forestry Division, Rural Fire Protection
#20 Industrial Blvd., Greenbrier, AR 72058
Main Line: (501) 679-3185 | Direct Line: (501) 679-3183